I love fun Christmas traditions and
Libby
had a genius idea of doing a linky party for everyone to share theirs. I'm thinking I might even be stealing some of these ideas for when we have kiddos.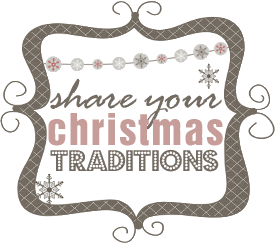 Here are a few of ours:
Growing up my dad would always read "The Night Before Christmas" right before we went to bed. He'd add in some goofy voices to get us to laugh. It's one of my fondest Christmas memories growing up. Then we'd be sure to leave out a plate of cookies and milk for Santa. In the 3rd grade I learned why Dad was so opinionated about the cookies I selected to set out ha!
Boy and I have added some of our own too. We love Christmas movies. So it's a tradition to watch Christmas Vacation on Christmas eve, we started this one even before we were married. We also have to add in a few of our other favorites including Home Alone, Elf, A Christmas Story and Love Actually.
We also spend a lot of time in the car traveling around for Christmas so we love to spend that time belting out Christmas songs and boy will read from some of Luke from the Bible. It's a sweet time just the two of us.
Can't wait to hear about everyone else's traditions! Hope you join in too!